Kennedy Point Vineyards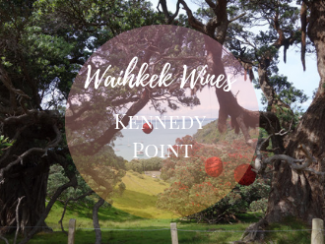 Simply Spectacular – Waiheke Islands only 100% certified Organic Wine and Vineyard
If you are looking for a spectacular sea views looking over Kennedy Bay, a lovely alfresco dining area, great award winning Bordeaux blends or tasty white wines and wonderful shared platters of with oysters, salmon, olives and Italian salami's, then look no further than Kennedy Point Vineyard. 
The vineyard itself is like a quintessential slice of NZ heaven – situated amongst 300 year old Pohutukawa trees the view back over the bay is simply spectacular.  Here you feel like you're part of the vineyard with the picnic area nestled amongst the olive groves for a truly amazing experience.
While there is no café or restaurant, they compliment the fine tastings with a variety of shared platters which are paired with home produced honey and olives, locally sourced local oysters, cheeses and smoked salmon and a variety of Italian cured meats.  They are generously sized and super delicious!  If you want to keep it simple, then grab the deal of 'three wines of the day, olive and avocado oil for $9 per person'.
Definitely a recommendation!  They are open from 11am to 4pm or by appointment for wine, olive, avocado oil and honey tasting.