Man O' War Vineyards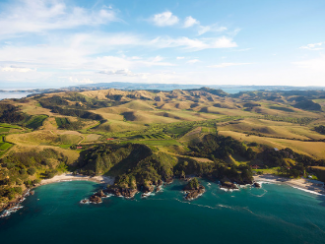 A truly delightful Waiheke wine experience
Man O'War Vineyard is probably one of our most favorite summer vineyards on Waiheke Island due to its relaxed ambiance, the quintessential kiwi beachfront location, memorable wines and the simple Italian inspired menu - executed extremely well, against the backdrop of Pohutukawa trees and island inlets.  This is a vineyard where you want to linger and enjoy your day, a destination rather than a visit.  Bring your friends and family and prepare for a vineyard experience unlike any other on the island. 
We love how Man O' War is anchored in Waiheke tradition and expresses the uniqueness of Waiheke through its wines and marketing.  The name came directly from a reference that Captain James Cook made when he first sighted the towering Kauri trees along this stretch of the Island's coastline… 'that they would make ideal masts for the Man O' War warships of the Royal British Navy'. 
But Man O' War is also arguably Waiheke Island's most significant wine producer, with 150 acres of vines planted in 76 individual hillside blocks, each with a distinct soil profile and micro climate.  The tasting room offers you a selection from their extensive collection in a relaxed and friendly colonial styled home, which is both beautiful and unpretentious. 
The simple but tasty menu showcases pizza and shared platters meant to be enjoyed paired to their wine selection and eaten while 'relaxing on the rattan furniture under the shade of the verandah or on the expansive lawn whilst soaking up the views over the bay to the Coromandel coastline interrupted only by the Pohutukawa tree perimeter which itself is a beautiful sight when in seasonal flower and the source of our delicious honey'
The thing is, nowhere else in the world could you get these views and this experience – it is uniquely Waiheke, reflecting the very essence of the Waiheke lifestyle and for that it's worth a day out of your travel itinerary.
But book ahead if you can, it gets super popular on a warm or sunny day, and this is a vineyard you don't want to miss out on!
Vines: Syrah, Ironclad, Merlot Malbec, Pinque Rose, Chardonnay, Pinot Gris.