Obsidian Vineyards and Cellar Door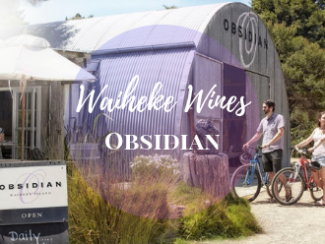 Obsidian Vineyards are best known for their exception cellar door experience of award winning fine wines!   
The vineyard nestles in the coastal hills of the Onetangi Valley adjacent to the northern coast of Waiheke Island and was originally planted in 1993 with the single objective of producing a great Bordeaux-style red.  
Today the 10-hectare vineyard is planted in small batches of wine which are grown on four discrete hillsides set out in an Amphitheatre-like fashion and produce new single vineyard wines including rose made from merlot grapes, Syrah, Montepulciano, Viognier, Chardonnay and and Tempranillo.
'small in quantity but high in quality'
Wine Tastings
Tucked away in an amphitheatre setting amongst the vines, Obsidian offers tastings in a relaxed and friendly environment. The cellar door is situated next to a wetland area and vines. Al fresco tastings are often held under the pergola during the warmer months.
A great day out is to walk or bike the Onetangi Trophy Trail and pop into Obsidian Vineyard along the way!
Winter Hours
Friday to Monday 11 am - 4 pm* (Closed: Tuesday to Thursday)
*Please note that a tasting will usually be around 30-40 min in duration.