Peacock Sky Vineyard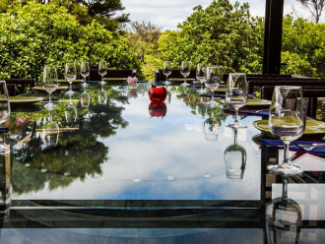 Peacock Sky Vineyard was developed in 2008 from the joint passions of its owners Rob Meredith (UK) and Connie Festa (Canada).  Described by the couple as a 'customer driven vineyard' it delivers a fantastic vineyard experience of fine dining with fine wines.  Known for its degustation menu, this is a vineyard to take your time visiting!
Nestled amongst native bush and centrally located it can be accessed from the local transport network + a small walk up Trig Hill Road. 
The Tasting Room
We are one of only a few vineyards in New Zealand to offer a 'degustation' experience in the French tradition, featuring a selection of our wines accompanied by a petite portion of its perfect match in food.
The Vineyard
The vineyard showcases an extensive selection of 6,500 vines grown under the practices of sustainable winegrowing.
They produce a variety of wines:
Merlot Malbec
Cabernet Sauvignon
Pure Franc
Pure Melbec
Pure Merlot
Late Harvest Cabernet
Rosè
Blanc de Noirs Sparkling
Chardonnay
Pinot Gris
Sauvignon Blanc
And a House-Made Lemoncello + House-Made Brandy
Address
Saturday & Sunday 11am - 4pm
152 Trig Hill Rd, Waiheke Island
Web: peacocksky.co.nz