Stonyridge Vineyard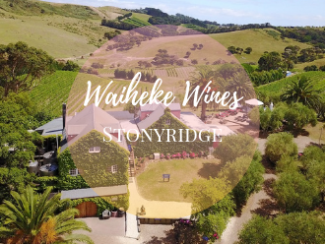 Ultra Premium Red Wine Specialists.  Voted as 'One of the Top 10 Must-Visit Wineries in the World' - Robert Joseph, The Guardian, UK – June 2000
Some would argue that Stonyridge put Waiheke Wines on the international radar – and I guess they'd be right!  Planted on 25 acres of gentle north facing terra, these Bordeaux vines benefit from long hot sheltered summer days with low rainfall.  Alongside the clever team of winemakers, this vineyard has consistently created world class Cabernet varieties that have won the highest accolades on the world wine scene. 
And the vineyard has continued to reengineer itself with a great restaurant / café (Veranda Café – aptly named for its wide vine covered veranda), which serves beautiful, shared platters from local producers paired with their wines.  The café spills over into the tasting lounge and yoga deck.  This is blending kiwi culture with the French influence that founded this vineyard, with picnic blankets available for those who would prefer to sit amongst the vines or on the fresh grass. 
And just because this vineyard is not already cool enough as it is, the deck space is also used for both Yoga classes and Saturday Sunset DJ Sessions!  Definitely a place to bring a great set of friends, kick off the shoes and settle back on the rugs and enjoy a platter and fine wine.