Te Motu Vineyard & Shed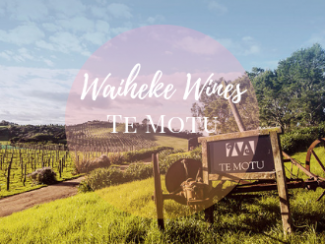 'Te Motu Arai Roa 'Island of Long Shelter', and the original Maori name for Waiheke.   Described as "Estate-grown and crafted from low-yielding vines, Te Motu wines embody the unique personality of the vineyard site and show the complexity and promise of long-life."
We certainly love the vineyard and the spectacular ocean views back over Onetangi Valley. And they have what they consider to be 'rural wine shed dining' which as a local we love! Supporting local producers and in fact, growing most of their ingredients on site amongst their extensive gardens, the menu reflects 'honest-to-goodness, gutsy and thoroughly modern food, packed full of flavour'.
Lunch is a delight, only surpassing dinner in our opinion, because of the relaxed atmosphere created by 'Kiwi bach styled' alfresco dining. It's a lovely way to spend a day, or long lunch, sitting in the sunshine and enjoying award winning wines paired with food from the same mother earth the grapes came from!
And the wines, let's spend a moment on the award winning wines; as one of the pioneers of Waiheke Wines its no surprise that the emphasis was on producing a 'Bordeaux' style wine, comprised predominantly from a blend of Cabernet Sauvignon and Merlot. Today, the Te Motu flagship wine is a Cabernet Sauvignon dominant blend with Merlot, Cabernet Franc and Malbec. Simply delicious!
A quick note - From 3rd June till the 4th September the Cellar Door will take over the restaurant space, open daily 11am – 5pm for wine tastings by the fire, and a relaxed all day winter menu. 'The Shed' will return to full restaurant service in the spring on the 4th of September.