Waiheke Craft Breweries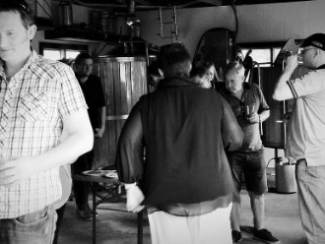 Waiheke Island, known for its 'flat out relaxing' atmosphere and sophisticated wines, is a both a wine and culinary lovers destination dream.  And in the tradition of innovation and craftsmanship, and the casual laid back island attitude, the craft beer industry is making its mark alongside that of its viticultural sister.
But craft Breweries are alive and well and in typical Waiheke style are a beautiful reflection on what life on the island would be like if the relaxed atmosphere was literally brewed and bottled.   There aren't many, but what is on offer packs a fun sub cultural punch and will keep you well entertained for a few days of beer tasting!
Let's explore the best;
Waiheke's Original Craft Brewery has been serving local brews since 1998 making it one of the oldest craft breweries in New Zealand, not just Waiheke.  The brewery herself is over 25 years old, and still she occupies the good 'ol kiwi shed out back of the Wild on Waiheke Vineyards.   Paired with a rather eccentric master brewer, this Microscopic Brewery knocks out some epic flavours.  For a great day out, grab a shared plate, platter or grazing boards from the delicious restaurant, to complement one of their home brewed beers, cider, and their World Famous (on Waiheke) non-alcoholic ginger beer.
Alibi Brewing Co. is located on the rather breathtaking vineyards of Tantalus Estate.  By their own words, their mission 'is to create the perfect pint across a wide range of beer styles. We strive for flavour and complexity, clutching onto the sublime balance between malt, hops, yeast and sink-ability - the undertow and flow of every great beer'.  The menu is quite impressive with both a core and seasonal range – and tasting paddles are available with up to 4 beers on each. Enjoy with a shared platters from the restaurant, outside on the patio amongst the vines on a warm afternoon.
There's a lot of life and a lot of colour at Boogie Van Brewing.  Some would even say this craft beer brewery is a real hidden gem!  The proprietors have taken inspiration from heavy music and custom van culture, a laid back attitude and a passion for creating great brews that they love to personally drink.  There are a number of home brewed beers rotating on tap, great couches to slouch on, bottles to take away or kegs to purchase and you can even bring your own refill vessel!.  They'll cater for the drop in visitor or for organised tours!
​